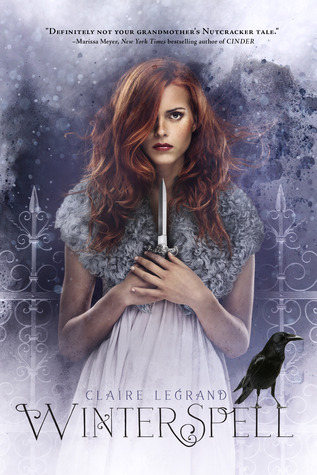 Genre: YA, fantasy, steampunk, retelling, historical
Published September 30th 2014 by Simon & Schuster Books for Young Readers
Source: Publisher via Edelweiss
Purchase: Winterspell
* Barnes and Noble * Book Depository
Blurb (Goodreads):
The clock chimes midnight, a curse breaks, and a girl meets a prince . . . but what follows is not all sweetness and sugarplums.
New York City, 1899. Clara Stole, the mayor's ever-proper daughter, leads a double life. Since her mother's murder, she has secretly trained in self-defense with the mysterious Drosselmeyer.
Then, on Christmas Eve, disaster strikes.
Her home is destroyed, her father abducted--by beings distinctly not human. To find him, Clara journeys to the war-ravaged land of Cane. Her only companion is the dethroned prince Nicholas, bound by a wicked curse. If they're to survive, Clara has no choice but to trust him, but his haunted eyes burn with secrets--and a need she can't define. With the dangerous, seductive faery queen Anise hunting them, Clara soon realizes she won't leave Cane unscathed--if she leaves at all.
Inspired by The Nutcracker, Winterspell is a dark, timeless fairy tale about love and war, longing and loneliness, and a girl who must learn to live without fear.
My Thoughts:
*This review is based on electronic advanced reader's copy. There might be some changes with the finished copy. Also, review may have an itsy, bitsy spoiler.
Clara Stole's life started to change when her mother was murdered and found something that made her question the truth behind it. Her normal life as a mayor's daughter in New York in 1899 became extra-ordinary when she *literally* jump in to another world's Door. With a stranger.
Winterspell
is another guilty pleasure for me. Pretty cover and fairytale retelling. Enough to make me become a desperate bookworm who would do everything just to read this book. And an afterthought,
this should meet my expectations
.
I have been on and off reading this book. I'm not sure if it's really because I have to adjust my chaotic reading schedule or I never expected the beginning to be...slow. Both, maybe. I wasn't impressed on the intro of Winterspell. Like I said, it was slow and so not my thing. Boring. I just wanted to experience the fantasy and thrill right away, which I didn't get. Yeah, some fantasy books started that way but this one made my fingers itch and want to skip. I also thought of marking it as DNF because when Clara and Nicholas finally arrived into another world, I realized that I'm also not connected to the characters and the story. So I just dragged myself to read it--because I'm saying for the hundredth time, I don't want another DNF in my life.
Clara Stole...I don't have much an impression on her but I'm glad that she had a character development. She became stronger each chapter and be the hero of her--and everyone's--story, which is a good thing. She's independent and a fierce one. The idea of "Nutcracker"-inspired sounds so appealing. I admit that I don't know what it's about before but when my friend described what it was, I became familiarized, though not with the whole story, just with the idea. On Winterspell, it was more mysterious, magical, and sexier. Not only with the Nutcracker man, but overall. Sexy and with a hint of LGBT--both I greatly mind, because I really wasn't prepared. Just thought I'd warn you. Though admittedly sexy, the romance wasn't something swoon-worthy. The chemistry was lacking especially when there's betrayal. And while Clara have a strong character, Nicholas went somehow flat. Not manly and inconsistent. Most of the supporting characters were inconsistent for me.
There are also f
ew things I'm not sure whether I missed or the author missed to mention: was Nicholas human?
What
was he and his people? How did some humans come to arrive in Erstadt?
The villain was another story. Anise was the only villain who's kind to the protagonist. Too kind. There's more from her than what was shown in this book. I want to know her reason in everything she did and still be so kind to Clara. And what was her real intentions. Her story was featured in the prequel, Summerfall. I haven't read it and only time will tell if I ever will. So many books waiting for me!
I love that Winterspell had a justifying ending. There's finality in the other world and on Clara's life in New York as well. It went smoothly and satisfying, with a little pang for me. I'm so glad when I found out that there's an epilogue,
Homecoming
, free from the author's website. Thank God it's free! LOL I hope that the buzz and the feels I felt there was present in the book. But anyways, I'm very satisfied with the ending and I think that's the part I like the most.
Winterspell had yay and nay parts, though the overall was good. The Nutcracker stuff was short-lived but the author obviously gave her own spin of tale with a really good world building that made it all dark and enticing.
*Thank you Simon and Schuster and Edelweiss for the review copy in exchange of an honest review!
Rating: