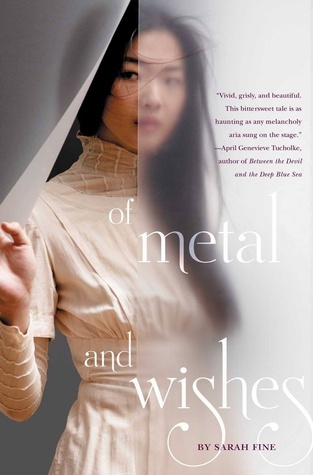 Series: Of Metal and Wishes #1
Genre: YA, historical, steampunk, romance
Published August 5th 2014 by Margaret K. McElderry Books
Purchase: Amazon
* Barnes and Noble * Book Depository
Blurb (Goodreads):
There are whispers of a ghost in the slaughterhouse where sixteen-year-old Wen assists her father in his medical clinic—a ghost who grants wishes to those who need them most. When one of the Noor, men hired as cheap factory labor, humiliates Wen, she makes an impulsive wish of her own, and the Ghost grants it. Brutally.
Guilt-ridden, Wen befriends the Noor, including their outspoken leader, a young man named Melik. At the same time, she is lured by the mystery of the Ghost and learns he has been watching her … for a very long time.
As deadly accidents fuel tensions within the factory, Wen must confront her growing feelings for Melik, who is enraged at the sadistic factory bosses and the prejudice faced by his people at the hand of Wen's, and her need to appease the Ghost, who is determined to protect her against any threat—real or imagined. She must decide whom she can trust, because as her heart is torn, the factory is exploding around her … and she might go down with it.
My Thoughts:
*This review is based on advance reading copy. There could be changes on the finished copy.
Of Metal and Wishes was told in Wen's perspective, set in historical time in, I suppose, a fictional place (the year was not mentioned, the place was fictional, and the way of living sounds like a caste). At sixteen, Wen lost her mother then became her doctor father's assistant and moved to live in the factory he is working. The Ghost people believes in and ask their wishes for and t
he arrival of the Noor workers--the people of the lowest caste--seems to make
the factory become more dangerous and a little bit scary yet interesting.
Of Metal and Wishes scared me at first. Literally. Wen's tone, book setting, and characters when combined isn't something I would read. Challenging myself, I just read it. After a couple of minutes, I was greatly surprised to found myself eager to read page after page and liking every bit of it. I closed this book, satisfied and wanting for more.

Wen is not an ordinary female protagonist. She is strong and likable but not dangerous. Someone I'm sure readers would love. The story--and even the love story--isn't something ordinary either. Everything in this book screams extra-ordinary. Even I became interested in the Ghost. It's one of the highlights of this book. This is not an action-packed novel but it made my heart pound anyway and paused reading just to release the breath I didn't know I was holding. I was really drawn in the fascinating tale written by Sarah Fine.

This book isn't something I would read but it turned out that it was something I am wanting to read. I can now see this will be in theaters. Engaging, electrifying and mysterious, with heart-pounding twists and revelations and so many feels, this book is overall fascinating and just amazingly written. Of Metal of Wishes is one of my favorite 2014 reads. The only few things I've struggled with this book is my breathing, the lost of ability to put it down, and the reality that I have finished it and it would take another year for me to read the sequel. To summarize my thoughts: I'd say I LOVE this book--it's perfect and highly recommended whether you're a contemporary, paranormal, sci-fi, or fantasy reader!


*Thank you so much to Rino and Simon and Schuster International/Philippines for the review copy in exchange of an honest review!
Rating: