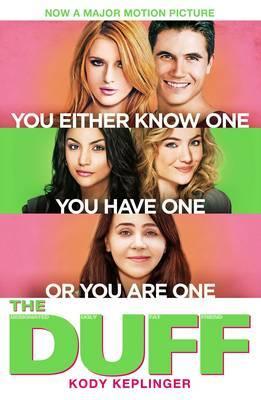 Genre: YA, contemporary, romance
Published February 25th 2015 by Hodder Children's Books
Source: Publisher via Netgalley
Purchase: Amazon
* Barnes and Noble * Book Depository
Blurb (Goodreads):
Seventeen-year-old Bianca Piper is cynical and loyal, and she doesn't think she's the prettiest of her friends by a long shot. She's also way too smart to fall for the charms of man-slut and slimy school hottie Wesley Rush. In fact, Bianca hates him. And when he nicknames her "Duffy," she throws her Coke in his face.
But things aren't so great at home right now. Desperate for a distraction, Bianca ends up kissing Wesley. And likes it. Eager for escape, she throws herself into a closeted enemies-with-benefits relationship with Wesley.
Until it all goes horribly awry. It turns out that Wesley isn't such a bad listener, and his life is pretty screwed up, too. Suddenly Bianca realizes with absolute horror that she's falling for the guy she thought she hated more than anyone.
My Thoughts:
I've been wanting to read The DUFF since year 2012. I heard so many good things about it and it was my kind of read back then. Then there comes the movie and I was like, I NEED TO READ THIS FIRST! And then it magically appeared in Netgalley with a movie-themed cover. Okay so I'm thankful that I've been accepted (never expected it since it was only open for US/Canada readers only, so imagine my excitement and shock!) but I also noticed that the cover was meh.
I read this book fast. I did not expect to finish it soon. Maybe because I've been waiting for years to finally read this? Anyways, it's not what I expected. Since I had high expectations from the hype and years of wanting to read this book. Enemies-with-benefits? I've probably missed that before but for me I think it's cheap, despite Bianca wanted a distraction. It was a dumb move.
What I liked was despite of Bianca's dumb move, the story still managed to be interesting.
I guess it's a page turner, since I read it fast. I also liked that there's a happy and cute romantic fairytale-like ending. When Wesley manned up did a romantic move, that's when I only swooned.
I'm curious with the movie so I watched the trailer after reading this book. And are you kidding me? The only thing left was the title and character names. The movie (even from the trailer) fell like one-of-those-teen-movies out there. I also saw Mean Girls in it. I mean, the book doesn't have a mean girl and Bianca never transformed from the Duff to a non-Duff. The movie would probably end up cliche and so different compared to the book. Even if I have some issues with the book, I'd prefer it.
Although The DUFF seems like teensy novel, it contains mature topics I wouldn't recommend to younger audience. If you're debating whether to read the book or watch the movie, please read the book. I can tell from the trailer alone, this is way better. But I wouldn't stop you if you want to do both.
*Thank you so much Hodder Children's Books for the review ecopy in exchange of an honest review!
Rating: