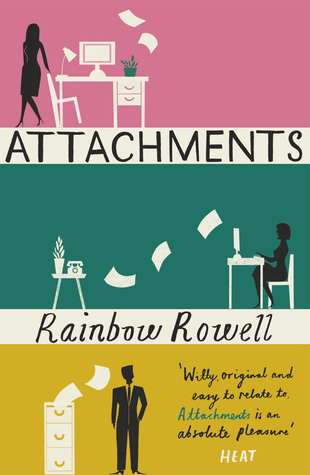 Genre: Adult, contemporary, romance
Published February 2012 by Orion
Purchase: Amazon
* Barnes and Noble * Book Depository
Blurb (Goodreads):
By day, two young women spend their hours emailing each other, discussing every aspect of their lives. By night, Lincoln, a lonely IT guy, spends his hours reading every exchange. Soon Lincoln is drawn into their lives, and finds himself falling for one of them. Lincoln decides it's time to muster the courage to follow his heart.
My Thoughts:
I couldn't sleep the night I finished this book but not [only] because I have a hard time getting to sleep like always, but [also] because my heart and thoughts about Attachments were screaming at me, and I just have to jut it down. (I literally wrote this. Paper and pen.) I just read Attachments and man, to say that I really enjoy it and I had so much feels is an understatement. It was really, really good.
Attachments was an unusual love story. I never heard of someone reading anyone's emails and fall in love with the person. And that's not even the whole story yet!
The beginning wasn't huge for me. I didn't have an impression that would be like, "I knew this book would rock!" or "I already love it". Mostly it fell flat and boring and slow, up to a couple of pages. There was even a time where I turned the book on a random page and peak, wondering if it ever start moving (glad did not caught a spoiler). I can't remember exactly what I read/saw but apart from that, I was determined to finish it. The story picked, added some [major] character background, some spice, hilarious conversations, and cute stuff.
I like all the characters in this book. Lincoln and his ridiculous job, and Jennifer and Beth's hilarious emails. They all are easy to read and was entertained by their extra-ordinary story and life twists. I like the plot although it sounded like stalker-ish (it does) but at the same time I think it's endearing. The way Lincoln gets excited on Beth and Jennifer's emails and how he tried to spot who's who. All these hide-and-seek stuff made me squee with excitement, like when you're watching a rom-com movie and the characters are about to meet or finally confess their feelings for each other and you're jumping in delight and sigh with cuteness. Yes, that's how it was for me. I can't even!
Attachments was one of the books I'm dying to read and I'm very happy with the results, that I wasn't disappointed. It went beyond my expectations plus the major feels I had. I love this book and would recommend it even to younger readers because it's too cute to miss and also it's a clean romance. I could read this again and again and never get tired. Light read, fun, hilarious, uber cute and sweet, and romantic ending, this book would make you see the brighter side of your painful work or dreadful homeworks. A pink in a day of grey. I could even see a guy enjoying this. Oh, please do read this!
Rating: