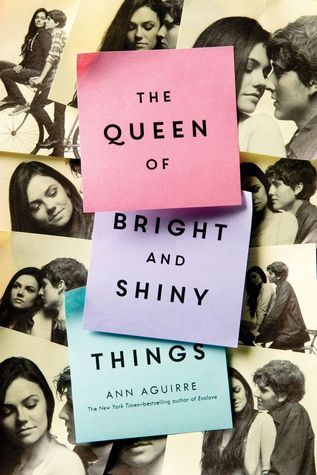 The Queen of Bright and Shiny Things
Genre: YA, contemporary, romance
Expected publication: April 7th 2015 by Feiwel & Friends
Source: Publisher via Netgalley
Purchase: Amazon
* Barnes and Noble * Book Depository
Blurb (Goodreads):
Sage Czinski is trying really hard to be perfect. If she manages it, people won't peer beyond the surface, or ask hard questions about her past. She's learned to substitute causes for relationships, and it's working just fine… until Shane Cavendish strolls into her math class. He's a little antisocial, a lot beautiful, and everything she never knew she always wanted.
Shane Cavendish just wants to be left alone to play guitar and work on his music. He's got heartbreak and loneliness in his rearview mirror, and this new school represents his last chance. He doesn't expect to be happy; he only wants to graduate and move on. He never counted on a girl like Sage.
But love doesn't mend all broken things, and sometimes life has to fall apart before it can be put back together again…
My Thoughts:
*This review is based on advanced reading ecopy. There might be some changes with the finished copy.
I first thought on the sentence "
Sage Czinski is trying really hard to be perfect" was that Sage was the kind of female character who focuses on superficial things such as staying pretty and sexy. But that being "perfect" was something more. Sage was the kind of girl everyone would like to be friends with. She's cheerful, kind, sweet, doesn't care what people think, and doesn't choose who to be kind with. She has this thing wherein she writes a positive thought or observation about a person, write it on a Post-It note, and stuck it on their locker when they're having a bad day or someone bullies them. I'm like her in a way that I want someone's day (if not life) to be better and bring out the best and positive things they fail to see because of the disappointments, and I instantly I liked Sage. She's one of those rare YA characters you'll be meeting, I don't think I've read someone like her before. Others were having self-pity, or trying to be kick-ass, or whines about everything. Sage was different. Though this positive thing was a really beautiful thing about her, I knew that there's something within her that wasn't on her sleeve.
Then there comes a new boy in school (a very cliche one, I must say) who is just charming..and mysterious. Shane was one of those people Sage would write a positive Post-It note. Although he came to the picture in a cliche way, I've felt Sage and Shane's connection. Being the kind girl she was, Sage tries to make him happy and at home. I know that Shane has the most beautiful eyes Sage has ever seen and that he looked incredible in a broken way, but I never expected her to be like a stalker-type and the first one to send signals to a guy. Yes, I like their chemistry and cuteness but..
I liked the first half of this book. There were also character improvements on Sage, where she found new friends. I guess what came down was the part where she added fuel to the fire on the bullies. I couldn't blame what happen to her eventually because instead of continuing to be a good girl who let it all pass, she made reasons for this guy to uproot her past. The ending was something I've read before but I'm glad there's still happily ever after. I really liked this book in the beginning. However, it went downhill in the middle and sometimes it bored me.
The Queen of Bright and Shiny Things is what you see is what you get. Cute, quirky, and lively cover matches the main character, romance, and (partly) vibe of this book. There's also some hidden truths you'll be witnessing later so it's a combination of light and heavy. A lot of people loved this book and you might to. I liked it too, I just hoped that the story remained strong as the beginning.
*Thanks to Feiwel & Friends/Macmillan for the review ecopy in exchange of an honest review!
Rating: